Unland has delivered quality insurance products for more than 80 years.
The Unland name has been synonymous with creative risk management throughout Central Illinois. Our company is rooted in traditional values and has grown throughout the years through unparalleled industry knowledge, an eye for innovation and total responsiveness to our clients. We're a small-town agency with a big heart and big plans for the future.
A Humble Start
It all started in 1941. Believing that independence was the best way to serve his customers, J. Logan Unland opened an agency in Pekin, Illinois. Joined by his son Jim, after serving in the US Army, the agency prospered by providing a "quality first" solution for commercial and business insurance.
Establishing a Name
You can't be part of a community unless you serve the community! Following that philosophy, the employees of the Unland Companies strive to keep the tradition of service alive by sharing their energy and talent with their communities through coaching, fund raising, teaching, and more. Now with locations throughout central Illinois, there is more to do.
Agency Recognition
Consistent quality performance has been rewarded by numerous awards from the companies that we represent and the organizations that we serve. These include some notable awards from the Independent Insurance Agents Association and the National Association of Health Underwriters. However, providing quality risk management services to our customers is the recognition we work for every day.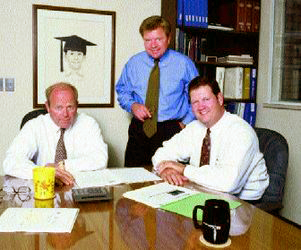 Continued Growth – A Look at Unland Today.
Poised for the Future
Through the decades, we have grown because we have the strong foundation of customer first values. We have and will continue to explore and understand the services that bring our customers value in all things insurance and administration. We have learned how to partner with our customers and together we find the right solutions to the risk management challenges we all face every day.
Unland now serves customers in several offices in Central Illinois.
Contact an Agent
We'd love to talk with you about the superior products and services offered by The Unland Companies. Complete the contact form, and we'll get back to you soon with the customized information and advice you need.